Dear Minnesota – Myra Johnson
From New Amsterdam to Chokio, Minnesota, Myra Johnson shares the journey of her ancestors and of the many points they called home in-between
---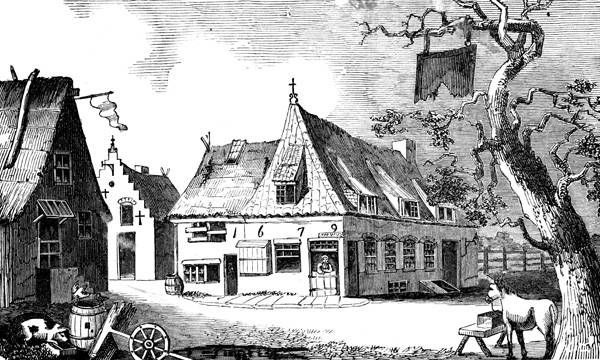 Dear Minnesota:
This history was written for the celebration of our parents', James Clifford DeCamp and Clara Amolia Asmus, 50th wedding anniversary on November 26, 1975.
Laurent (Laurence) DeCamp arrived in the U.S. in 1664, just prior to the take-over of New Amsterdam, the Dutch Colony, by the British, renaming the settlement New York. New York, in the days of Laurent DeCamp, consisted of a few streets, all dirt—or mud in most cases—that saw livestock running in practically all directions. They eventually had to pass an ordinance making the owners keep the pigs, etc. enclosed. It seemed that occasionally there was conflict as to who had the right-of-way. Especially in that the pigs loved to root and bask where the mud puddles formed.
Our original ancestor and his family is noted as having lived in a community called New Utrecht. This place today is a station on the Long Island Subway. In his time, it was a small settlement that originally was known as a camping spot for the Indians as they traveled from lower to upper Long Island.
Laurent's great-grandson, George, was born in 1774 in Virginia and was quite a young lad at the time of the Revolutionary War, but he lived at the time of the very founding of this nation and saw the turning of the colonies into a new country.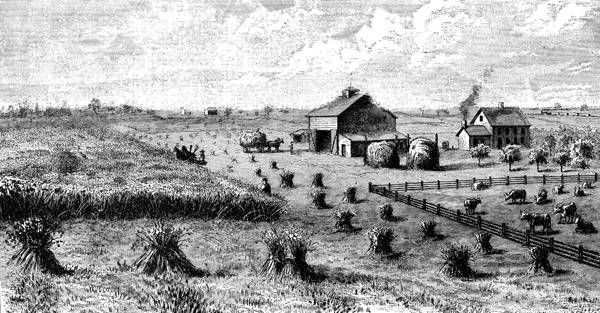 James Monroe DeCamp and Ellen Eliza Freisner DeCamp and their seven children moved to Stevens County in Minnesota in 1904.
James and his wife came by train in two box cars that unloaded at Clinton. Everything they owned was with them. They lived in this location for five years before they bought the old Tree farm near Chokio. It had a small frame house and a barn. Farming consisted of small grain, which was planted by a seeder pulled by two horses on a two-wheeled cart. It was then harvested by a binder, shocked then thrashed by a thrashing machine powered by a steam engine. They had cattle, hogs and chickens. The children went to District 30 Country School. It consisted of a room and one teacher for all eight grades.
Their second son, James Clifford DeCamp (Laurent's great- great- great-great grandson and my father) went to agriculture school in Morris and farmed with his parents. He married Clara Asmus on November 26, 1925 and lived on the home place. Times hadn't changed much, small grain and some corn were planted. They raised livestock and turkeys.
James Clifford and Clara were in their producing years. They had four children, including me. I was born in Stevens County Hospital in Morris on November 17, 1935. It was the drought and depression years. In 1937 our family moved from the farm to Tracy, Minnesota where James Clifford and Clara bought the Tracy Recreation Center which they operated for six years.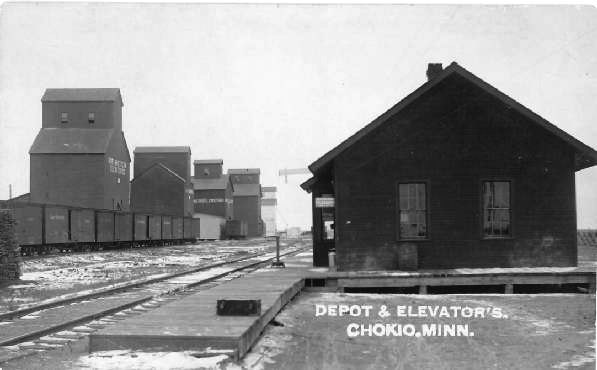 Chokio was home for James Clifford so we moved back where he managed the Chokio Liquor Store a number of years. Grandma Asmus was too old to live by herself so she moved in with us. This was a wonderful opportunity for us to know our Grandma better. She would sit in her little rocking chair crocheting and it gave us a chance to ask questions about the past. She was about 2 years old when her family came to America from Germany. They came by ship and she saw mermaids. Grandma was the oldest child in her family so she was in charge of the house and children when her parents worked in the field. Water was carried in by the bucket and armloads of wood were brought in for cooking. She had to work hard all her life. She married Herman Asmus and they had ten children. They farmed and Herman was a carpenter. The only reading Grandma did was an old German Bible which she understood best.
I am 85 years old now, living in Chokio. I thank God for the wonderful years he has given to our family.
Myra Johnson (DeCamp)